About us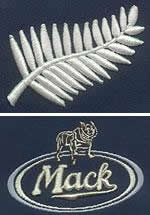 Here at Lawrie Embroidery we take great pride in treating everyone of our customers with terrific customer service and very fast turn around on their jobs.
We employ over 20 highly qualified staff members on a 24 hour rostered system to ensure our customers receive their jobs quickly and efficiently to a very high standard.
Mark Faulkner is the General Manager.
Frequently Asked Questions
Our software can open the following formats. If you are unsure of what to provide please forward this sheet to your graphics person.
CorelDraw
CorelDraw
All versions up to X4 supported
File Formats .cdr
All fonts should be converted to curves
Illustrator
All versions up to CS3.
File Formats .ai or .eps file.
Embed or include all linked images
All Fonts should be converted to outlines.
Adobe Photoshop
All versions up to CS3.
File Formats .psd or .tif file.
CMYK (Four Colour Process) - 300dpi at 100% print size.

Embroidery File Types
Vector File formats: .eps, .ai, .crd
Bitmap File formats: .jpeg, .bmp, .tif, .psd, .png.
All bitmap images must be over 300dpi. With the embroidery we have to redraw the complete logo regardless of the art provided. If a bitmap, please make sure it is a reasonable size 300 dpi file. PMS colours are best to match to as computer monitors are all different.
Transfer - Digital File Types
Vector File formats: .eps, .ai, .crd
Bitmap File formats: .jpeg, .bmp, .tif, .psd, .png.
All bitmap images must be over 300dpi. Digital transfers are a CMYK process and therefore we can accept bitmaps. Please size 1:1 and make sure that the image is at lease 300DPI. The printer can achieve 720dpi so the bigger file the better the print will be.

Frequently Asked Questions
Q:
What material can we embroider onto?
A:
We can embroider onto just about anything at all as long as it has a fabric base.
Q:
When will my garments be completed.
A:
From the day we receive the artwork, we aim to have it completed with in 5 working days.
Q:
What size logo can I embroider onto the following?
A:
Cap/Hat: 60mm High maximum and 120mm Wide (recommended)
Left Chest: 90mm to 115mm wide.
Sleeve: 90mm Wide (depending on the smallest size garment being embroidered)
Garment Back: 200mm - 250mm
Q:
Will the colour turn out the same as my screen?
A:
If you provide the PMS colour we can match the colour perfectly, however due to monitors
Being slightly different, we can not guarantee the colour we see is identical to what you see.
Therefore in some cases where PMS colours are not provided, samples can be provided.
Q:
What do I do if I don't want to see the back of the embroidery on my garment?
A:
We do offer an unpicking and sewing up service for garments with linings. Therefore you
Wouldn't see or feel the backing of the threads.
Q:
Should I embroider or digital print my garment?
A:
It may depend on the look you are after and the price. If you have a large picture or logo, digital printing may be cheaper than embroidery. You can also embroider small logo's and digital print larger ones on the same garment.
Q:
Can I do Digital Printing onto anything?
A:
We can digital print onto just about anything, however on occasion we are unable to print onto garments that have waterproofing or similar coatings as the colour won't stick. Your welcome to bring a garment into us and we can do a trial for you.
News
Digital Printing:
This is a 1440dpi CMYK solvent ink print onto a white vinyl sheet that can be heat pressed on to fabric. Our printer can cut to any shape to suit the logo, often not leaving a white border if the logo doesn't need it.
Art Requirements: A vector art file from Illustrator or CorelDraw (.eps, .ai, .cdr) gives the best results and is much easier for us to work with.
For CMYK images, a high resolution bitmap over 300dpi is needed (.jpg , .tif) Pros - The setup is fixed regardless of colours, unlike screen printed transfers. This makes it very economic for short runs.
There is a fast turnaround because there is no inks to mix or screens to make. This process is great for highly detailed photographic images or images with more than 4 colours.
For nylon bags and other garments that will never be washed, this process is the best. The colours are bright and vibrant as it is a digital process, it is very easy to make each garment unique.
As it is a CMYK process some PMS colours are difficult to match, we will do our best but we do not guarantee colour matches. If the file is a bitmap often if you adjust the image one colour may be right but this will affect the other colours. As the size gets larger, the price will increase and other methods of branding may become more cost effective.
Small Lettering. When the lettering gets detailed, the knife is unable to cut it out accurately so sometimes we need to put an area of colour the same as the garment colour.
As this is a print onto a vinyl material the colour will fade after a number of washes. We leave the transfers to dry for at least 12 hours before transferring and our longevity is good but it will not be as good as a screen print or and embroidery.
20 head electronic embroidery machine
We have recently installed the latest Tajima 20 head electronic embroidery machine. Tajima are located in Nagoya, Japan, and claim to manufacture the highest level of embroidery machines in the world!
| | |
| --- | --- |
| | The Tajima installed in our premises |
Information
Embroidery is a high quality permanent method to brand or identify a product, person or organisation on a wide range of garments or fabric. This includes the following items:
Clothing
Caps
Mats
Slippers
Shoes
Leather
Towels
Tablecloths
Car seat covers
Flags
Banners
and many other items which can be sewn and therefore also embroidered.
Embroidery thread is colour fast and will withstand commercial laundering and still look as good as new even when subjected to sunlight, heat, cold and hard wearing conditions.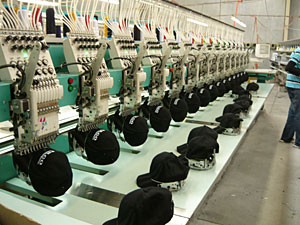 Embroidery machines are similar to large sewing machines except that they have many sewing heads, up to 20 on each embroidery machine. These sewing heads all sew the same pattern at the same time.
The first function when an embroidered pattern has been decided, is for us to 'digitise' the pattern Into our computer which will then drive the embroidery machine to sew the pattern onto the medium required.
Patterns or designs are unlimited in concept and colour and even in size but normal placements and sizes for these placements are:
Pocket size placement on say the left hand chest of a polo shirt Is usually 70mm by 70mm. Large embroidery Is of course possible but in this placement may not look acceptable.
The front or back of a t-shirt can accommodate 300mm by 300mm embroidery and it is quite common for us to do embroidery of this size. Generally 300mm by 300mm is the largest size of embroidery possible on a made up garment purely because of the size of the garment panels. On fabric pieces however it is possible to embroider much larger designs if required. E-mail us with any queries.
We do need good quality art work or pictures from which we can accurately digitise the design into our computer. Poor quality detail of the design required can result in a program which does not accurately portray the required design.
Pricing is determined by the number of stitches in any design and the number of items to be embroidered with the design.
Costs per item reduce rapidly as the number of items to be embroidered increases. Cost per 1000 stitches also decreases as the number of stitches increases especially for large designs of over 10,000 stitches.